Excerpt from The Wall Street Journal article, read the full story here
Across the street from a landscape of vacant houses and overgrown front yards, homicide detectives gather to investigate a murder. They analyze clues and debate how best to interrogate the key witnesses. Then, the director yells "Cut!" and everyone heads to a catered lunch of shrimp scampi and beef tenderloin.
The set of the gritty cop show "Detroit 1-8-7″ is one of more than 100 film and television productions that have flocked to Michigan in the last two years, the result of generous tax rebates. Producers have spent nearly $350 million in the state so far, a figure expected to reach $650 million by year's end, up from $2 million in 2007, according to the Michigan Film Office. About 80% of these shoots take place in and around this iconic but much-maligned city, sprinkling a little stardust, optimism and controversy along the way.
Workers who used to build cars are learning to build sets. The entertainment sector is "a lifeboat as the auto industry adapts and restructures," says Wayne County Executive Robert A. Ficano.
Signs of activity are everywhere. Hip-looking film-school grads on bicycles run errands in an empty warehouse that once served as a Chrysler distribution center and is now a cavernous 166,000-square-foot production studio for "Detroit 1-8-7." Sets for the show, premiering on ABC Sept. 21, include a city morgue and a homicide unit with cluttered police desks and corkboards covered with mug shots.
The dilapidated Michigan Central Station, once a transportation hub, with marbled floors and Corinthian columns, has served as a symbol of urban ruination for years. It's now a key location for productions including "Transformers 3″ and HBO's "Hung." On Tuesday "Hostel: Part III" and "Vamps," a horror-comedy with Sigourney Weaver, both shot in the city's neo-Gothic Masonic Temple. When "Harold and Kumar 3″ finished a scene this summer that required turning a downtown street into New York City at Christmas, set designers left the fake subway entrance intact, knowing another production would soon need it.
Read the entire story in the  Wall Street Journal Article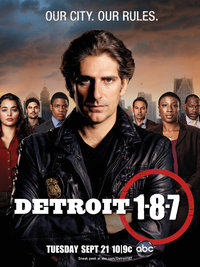 Michigan Film Production | The Ultimate Source for Michigan Production | The Michigan Film Source | Since 1985
Move your production forward with an expert movie budget from a veteran film producer. Contact Us to obtain quality movie budgets and schedules to move your script to the screen. Film financiers, bond companies, banks, lenders and investors require quality film budgets from a seasoned professional line producer with extensive experience in the field. Filmbudget.com creates film budgets for production.